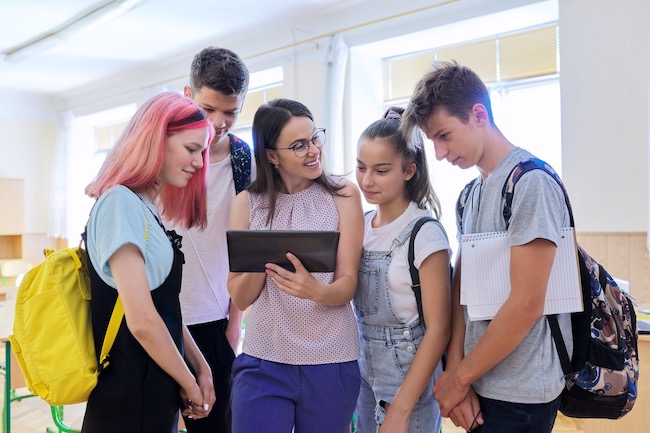 Training in media arts—including audio and video production, digital photography, and coding—can offer exciting new avenues for creative expression. Heidi Tulcan, MT-BC is a board-certified music therapist who works with podcasting students through Able ARTS Work. According to Tulcan, media arts training activates the right side of the brain, bypassing neural pathways on the left side that may be impaired due to disability.
"Media art allows us to express ourselves when we may not have the verbal communication to do so," Tulcan says. "This form of artwork gives those with Intellectual and Developmental Disabilities (I/DD) more opportunities as it can be more adapted to fit each unique individual's needs." Read on for a closer look at the best and most accessible media arts programs in the county.
Able ARTS Work (AAW) offers courses in podcasting and video production through their adult day program—funded through the Regional Center or private pay. San Diego clients are now welcome in the virtual program, with in-person opportunities expected locally soon. Participants' work is constantly visible to the public through the organization's social media, podcast and gallery, allowing artists to express themselves and advocate for equality. "We promote reciprocity of learning, participation in community and self-discovery for development of self-identity," says AAW CEO and Founder Helen Dolas.
"Media arts have given our clients a chance to respect one another in a different way," says Tulcan, "Being able to create virtually has helped break down some physical and social barriers between clients and their functioning styles. This helps them collaborate with one another in ways that they may not be able to in a traditional art style, leading toward a new understanding of one another and helping to gain new insight and respect." Learn more at www.ableartswork.org.
AAW also hosts an online learning platform called Able ARTS "Learn for Life," with virtual classes on an array of topics, including visual arts and music. These classes are open to all abilities and ages. Learn more at www.ableartslearnforlife.org.
Media Arts Center San Diego (MACSD) offers Youth Media & Tech camps for ages 6–18, including students with mild to moderate developmental differences. During each five-day camp, students work in teams to produce original short films from start to finish. Campers learn to do it all—from storyboarding and acting to editing and sound design. Artist-educators are on hand to teach exciting production techniques, such as stop-motion and green screen.
Education Coordinator Larry DaSilveira is a former public-school teacher and has a child with special needs. He designed the program with inclusion in mind. "Our lessons in camp are scaffolded to make the content accessible to everyone," he says. "If needed, we'll assign one of our camp assistants to work with a particular student to ensure they're engaged in the activities."
One of the most exciting aspects of the job for DaSilveira is observing social-emotional growth in the campers. "The media arts experience enhances their social skills because they're collaborating with other kids in a creative setting," he says. "They get to express themselves and share their skills and knowledge, which helps build confidence and self-esteem." Learn more about their programs at www.mediaartscenter.org/camps.
Located in Liberty Station's Arts District, Outside the Lens (OTL) is a photography, film, and media arts learning lab—as well as a gallery space. They offer inclusive media camps and workshops for all ages, both in-person and virtually.
OTL recently launched Media Makers, a program designed specifically for students with mild to moderate I/DD. Media Makers provides industry level training in digital media, filmmaking and photography aimed at (but not limited to) students ages 18–25. Educators help students develop skills for employment, creative expression—or both.
"Our program focuses on engaging our participants and encouraging them to amplify their voices through storytelling," says Alisha Faith, client services manager. "We also provide our students with the opportunity to join an inclusive community of artists and receive mentorship from local professionals." To learn more about the program and upcoming classes email mediamakers@outsidethelens.org.
Options for All offers an exciting vocational program for adults with I/DD who would like to pursue professional filmmaking. Film & Media Studios is funded through the Regional Center or private pay. Over four semesters, students learn film production techniques such as lighting design, camera work, screenwriting and postproduction. Industry professionals provide classroom instruction and hands-on training. Projects include short films, feature films, podcasts and animation. Upon completion of the program, students transition to supported employment in the industry. To learn more, visit www.optionsforall.org/film-media-studios.
Digital Media Academy offers online camps and courses in game production, creative design, music production and more. In addition to teacher-led courses, students may select self-paced courses to engage with the material at their own speed. Learning options are available for grades kindergarten and up. Learn more at www.digitalmediaacademy.org.
Anne Malinoski is a contributing writer and mother of two boys. Her older brother has special needs.