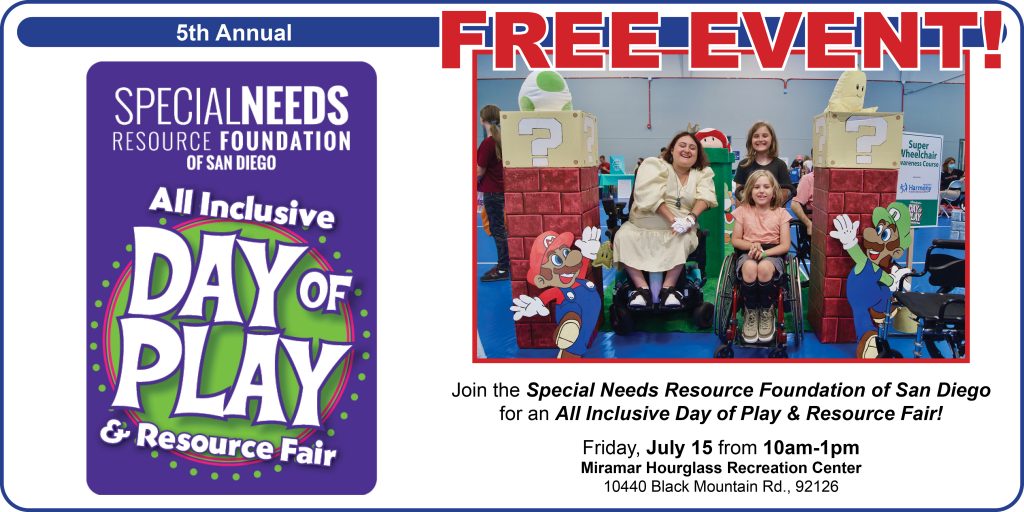 It's one of our favorite days of the year—and all activities and resources are free and open to the public! Kids of all abilities will love this event brought to you by the Special Needs Resource Foundation. Below is just a glimpse of what to expect—there is much more!
Join us for our All Inclusive Day of Play & Resource Fair on Friday, July 15, from 10 am-1 pm Miramar Hourglass Recreation Center, 10440 Black Mountain Rd., 92126
• Activity Booths • Giveaways • Games • Family Resources • Networking & more
Activity Stations for kids including favorites: Light Saber Creation Station, Rubber Duckies Literacy Pond, Super Wheelchair Course & many more!
Family Resources & Networking – Resource and service providers will be on-site to speak with parents and offer helpful information. Be sure to pick up a copy of Flourishing Families at the Special Needs Resource Foundation of San Diego booth.
Sign up for your FREE TICKETS at https://inclusivedayofplay2022.eventbrite.com
*Craft projects and giveaways available while supplies last.