Alex Jaeger is the easygoing 30-year-old behind Big Al's Best—a toffee and greeting card business he operates alongside his mother, Joanna. Alex has Autism and Type 1 Diabetes. "His goal in life is to be a helper and our job, as his family, is to find ways for him to be helpful," says Joanna. "He is capable and talented. He also needs a lot of support to navigate the world."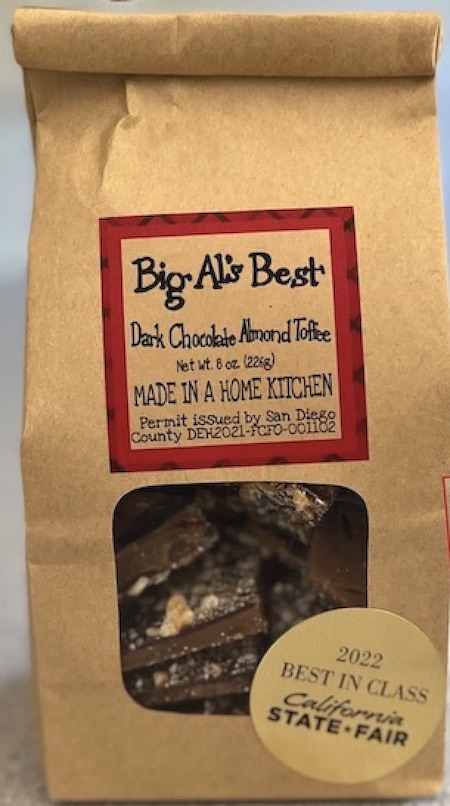 When Alex aged out of the school system eight years ago, the family began seeking meaningful ways for him to spend his time. Volunteering was one outlet. Creating greeting cards was another. "He's had beautiful printing from the time he was 7 or 8 years old," says Joanna. "We took that interest and had him write inspiring quotes that we then incorporated into greeting cards and other artwork."
Soon after, Joanna created a delicious toffee recipe that the two began selling at local craft fairs. The toffee was an instant hit with customers—a rich combination of sweet, buttery toffee, dark chocolate and almonds. It sold so well, and attracted so many repeat customers, that the two decided to apply for a Cottage Food Operations permit—and Big Al's Best was born.
Many customers make their first purchase because they love Alex's story. They return again and again because the toffee is the best they've ever had. This summer, Big Al's Best took home a blue ribbon from the San Diego County Fair. They also won a blue ribbon at the California State Fair, along with the coveted Best in Class award.
Some of Alex's official duties include shopping for supplies, cooking and packaging the treats. He also continues to make greeting cards and artwork featuring his stunning calligraphy. His work brings him a great deal of personal satisfaction and contentment. It's the vocation he's always wanted—to be a helper.
For Joanna, the greatest outcome of the company's success has been a deeper sense of community. The mother and son moved to Poway from the Bay Area in 2020—a challenging time to forge friendships. But as the business grew, so did their connections. "Poway has been a wonderful, welcoming place for Alex," says Joanna. "People around town are getting to know him because of our business. This is exactly what we hoped for when we made the move."
The pair's advice to other would-be entrepreneurs, especially those with Autism, is to focus on the interests and passions that excite you. Utilize your unique skills or strengths, such as focus or attention to detail. And before starting a business, talk to a professional about how additional income might impact eligibility for benefits like MediCal or Social Security.
Big Al's Best toffee makes a great Thanksgiving treat or holiday gift. You can find it through our ShopAble program, at small local businesses, or direct from the website: www.big-als-best.com.
Anne Malinoski is an award-winning contributing writer. She lives in Santee with her husband and two sons.