Many of San Diego's favorite parks, museums and theme parks offer accommodations for kids with special needs—but they're thinking of parents and caregivers, too. Here are local spots that have amenities designed to make life easier for families with special needs, including companion passes, early entry, discounts and more.
San Diego Zoo and Safari Park
The Zoo offers a complimentary pass for one personal attendant/caregiver of a guest with special needs who needs help accessing programs and facilities. It can be requested for regular admission or special programs. Complimentary ADA shuttle services are available at the Zoo if a member of your party has limited mobility. Learn more at https://zoo.sandiegozoo.org/visit/guests-with-disabilities.
The Safari Park offers an Easy Access Pass for those who have trouble waiting in line at the Africa Tram. Request it at the Tram Host podium. Note: a short wait may still be required. Guests with disabilities may be accompanied by as many as four companions when using the access pass. A complimentary ADA shuttle service is available for guests with mobility-related disabilities. Learn more at https://sdzsafaripark.org/guests-disabilities.
SeaWorld
SeaWorld's Special Access pass allows visitors to be placed in a virtual queue for attractions due to their disability. Once in the queue, your group is free to explore the park and visit other attractions. Simply return at a pre-designated time for entry. To obtain the pass, visit Guest Services upon arrival. You'll be asked to enroll in the Ride Accessibility Program (RAP), which helps determine which rides are suitable for your group's needs. Find details at https://seaworld.com/san-diego/park-info/accessibility-guide.
Torrey Pines State Park
Use a Disabled Discount Pass for half off the vehicle day-use fee to enter the park. This lifetime pass is available to people with permanent disabilities for a nominal one-time fee. Also use it for half-off family camping and boat use fees at most California State Parks. Documentation is required and the pass needs to be renewed every five years. Learn more at https://www.parks.ca.gov/?page_id=30236.
Cabrillo National Monument
Visit for free with a National Parks Access Pass. This lifetime pass is available to U.S. citizens or permanent residents with a permanent disability and can be obtained for free at the park (or online). Documentation required. Also use the pass for free or discounted admission to 2,000 other National Parks and Federal Recreation Lands. Learn more at www.nps.gov/subjects/accessibility/access-pass.htm.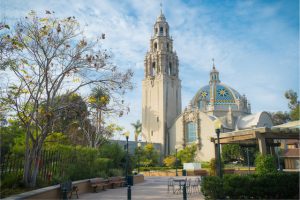 Balboa Park Museums
Free social stories for individuals with Autism are available at seven museums in Balboa Park: San Diego Natural History Museum, Fleet Science Center, San Diego Museum of Art, Museum of Man, Japanese Friendship Garden, San Diego History Center and Museum of Photographic Arts. Available in English or Spanish. Check them out at www.sdnhm.org/visit/accessibility/social-stories.
San Diego Natural History Museum
The Nat offers a free escort pass for the companion of a person with a disability. Check the museum's website for details about accessibility, including social stories—guides to prepare individuals with autism for social interaction and public events. These guides were co-authored by high-functioning young adults with autism. ASD Morning events are temporarily on hold, but were previously held the second Sunday of each month at 9 a.m. Get updated information at www.sdnhm.org/visit/accessibility.
Fleet Science Center
Families with sensory needs can have early access to the Fleet galleries from 9-10 a.m. on the third Saturday of every month. Enjoy a quieter experience for a full hour before the public is admitted; there is also a cool-off space on event days. Attendees are invited to a special IMAX screening at 10 a.m. House lights remain on and the soundtrack volume is lower. Free entry for one individual and an accompanying adult. Regular admission applies to any additional guests in the same party/family. Learn more at www.fleetscience.org/visit/accessibility.
San Diego Children's Discovery Museum
The San Diego Children's Discovery Museum in Escondido is packed with sensory learning opportunities and offers discounted membership for children with special needs and their families. A free caregiver pass is available for a family's paid staff, so your child's personal attendant or one-on-one aide may accompany the family for free. Sensory bins and headphones are available for little ones who prefer a quieter environment. A social story and museum map are available at www.sdcdm.org/visit/special-needs.
Anne Malinoski is a contributing writer and mother of two boys. Her older brother has special needs.