Kids of all abilities have similar experiences, how they manage the process can be different and require more care. We've reviewed several books for kids with special needs and the parents and professionals working with them.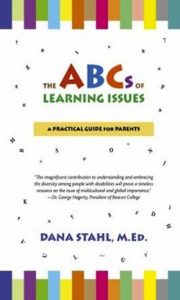 The ABCs of Learning Issues by Dana Stahl, M.Ed.
$39.99; Amazon.com
Explores 24 of the most commonly observed learning issues, including immature social-emotional development, decoding skills, and academic anxiety. The book describes each learning issue in layman's terms, as well as provides clinical and educator definitions. It also offers a robust 'Resource' section that includes a glossary, tips for parents to effectively communicate with their children's school, and a list of organizations that can provide assistance.
Rescue & Jessica: A Life-Changing Friendship by Jessica Kensky & Patrick Downes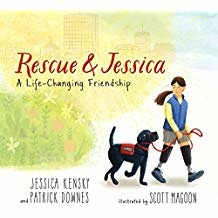 $16.99; Candlewick.com
Based on a real-life partnership, the heartening story of the love and teamwork between a girl and her service dog will illuminate and inspire. Rescue thought he'd grow up to be a Seeing Eye dog. When he gets the news that he's better suited to being a service dog, he's worried that he's not up to the task. Then he meets Jessica, a girl whose life is turning out differently than the way she'd imagined it, too. Now Jessica needs Rescue by her side to help her accomplish everyday tasks.
Playful Learning Lab for Kids: Whole-Body Sensory Adventures to Enhance Focus, Engagement, and Curiosity by Claire Heffron and Lauren Drobnjak
$22.99; Amazon.com
A hands-on activity book that offers games and activities that revolve around the senses and concepts in reading, math, art, and science. The activities in explore concepts in reading, language, math, art, music, science, geography, and social studies, all while engaging children with movements, touch, sound, and sight. The activities and lessons here include suggestions for tailoring the experience to different levels, making it a book children can grow with. The skills range from visual perceptual skills and spatial awareness, to early geometry concepts, visual motor integration, and fine motor skills.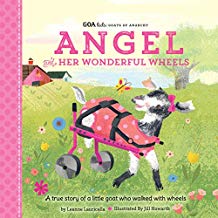 GOA Kids – Goats of Anarchy: Angel and Her Wonderful Wheels by Leanne Laurciella
$17.95; QuartoKnows.com
Discover the story of Angel, a baby goat who is different from the others. Angel, who can't walk like other goats, is rescued by Leanne Lauricella, founder of the Goats of Anarchy animal sanctuary. With Leanne's help, Angel gets a new set of wheels—a pink cart that helps her learn to walk, run, and play.
GEMINA, The Crooked-Neck Giraffe
by Karen B. Winnick
$15.95; Amazon.com
Gemina stood out from the other giraffes at the Santa Barbara Zoo. She was the famous crooked-neck giraffe. Everyone who saw her wondered if she was all right. Did her neck hurt? As months passed, Gemina's neck leaned more and more to the side but it never seemed to bother her. Gemina didn't let her difference stop her from doing anything the other giraffes did. Told with affection and illustrated with oil paintings, this is Gemina's story, a celebration of the life of a very special giraffe. All proceeds from the sales of this book were generously donated by the author and go directly to support the animals at the Santa Barbara Zoo.
Reasons to Smile: Celebrating People Living with Down Syndrome 

by Andrea Knauss & Elizabeth Martins
This compilation of 56 encouraging and eye-opening short writings by a variety of authors across the globe celebrates the lives of people living with Down syndrome. Together with 56 inspiring "slice of life" photos, these candid true stories, including the renowned "Welcome to Holland," provide inspiration and connection. Parents and families of children living with Down syndrome will discover a wealth of positivity and valuable guidance.
DK Braille: It Can't Be True
$29.99; DK.com
How big is the sun? What is the smallest bird? Where is the tallest building? Explore astounding facts and stories through high-impact and embossed images in this special book designed specifically for blind or visually impaired readers. The pages combine braille, large print, and high contrast photography with clear and predictive layouts. Fact boxes offer instant information for readers, and the image adapted embossed images make new concepts as clear as possible for the tactile reader. Each spread is based around a fact, so readers can feel a hailstone three times wider than a tennis ball or a bird so small it can sit on the end of a pencil.
DK Braille: On the Move
$22.99; DK.com
All aboard! Learn about the exciting world of transportation. Readers can take fun quizzes and learn amazing facts through high-impact and embossed images in this special book designed specifically for blind or visually impaired readers. From submarines deep in the ocean to hot air balloons in the sky, this book covers nearly all forms of travel and takes readers on their own exciting journey. The pages combine braille, large print, and high contrast photography with clear and predictive layouts. Annotations offer instant information for readers, and the image adapted embossed images make new concepts as clear as possible for the tactile reader.
The Conscious Parent's Guide to ADHD
$14.99; AdamsMedia.com
Learn how to take a relationship-centered approach to parenting, that engages your child and ensures that he succeeds behaviorally, socially and cognitively. With this guide, you can create a plan that not only addresses the challenges a child with ADHD faces, but also creates a mindful, less stressful atmosphere for the whole family. Also available for Asperger's Syndrome, Childhood Anxiety and Autism.
Sam's Top Secret Journal: We Spy

by Dr. Sean Adelman, MD
$6.75; RaiseExpectations.com
Sometimes people can have trouble accepting and respecting the differences in others, but through teaching children tolerance, we can help foster understanding. We Spy shows how Sam lives as a fun loving, but often bullied student. A basketball fan and player, Sam lives life to the fullest, while having Down syndrome. When Michael appears, a man with a jagged pink scar on his arm, Sam finds herself surrounded with mysteries. Can she and her brother, John, uncover the truth in time? This inspiring book can teach kids that those around us are not as different as we think.
One Track Mind: 15 Ways to Amplify Your Child's Special Interest

by Andrea Moriarty
$12.99; AndreaMoriarty.com
If your child has dyslexia, autism, Down syndrome or any other learning challenge, one thing is certain: he or she will need extra love and support throughout life. It can feel like they are continually measured against standards of what is "normal" and subjected to expectations that are neither helpful nor kind. In the process of parenting a special needs child, you might find yourself wondering, "What am I going to do with this kid?" The mother of a son with autism, Andrea Moriarty asked that very question. She found a simple yet profoundly life-changing answer: identify your child's special interest—whether it's music, Zorba the Greek, or bottle caps. Dive into it wholeheartedly with him or her. Then, leverage that passion into a life of purpose. One-Track Mind shares the story of a boy named Reid whose love for music became the therapy-and theme-that transformed his life.
I See Things Differently: A First Look at Autism

Barronseduc.com
The topic of autism is explored in a way that encourages positive interaction among children, parents, and teachers. The story line is simple and easily accessible to younger children, who will learn that exploring the personal feelings around social issues is a first step in dealing with them. Full-color illustrations on every page.
My Child Has Autism: What Parents Need to Know
GryphonHouse.com
There are no words to describe the changes in the lives of families when they learn that a child they love has been diagnosed with autism. This book was written for those families. It explains autism in simple terms, discusses the major characteristics associated with autism, and offers simple strategies for helping children with autism function in their homes, at school and in the community.
The Pocket Occupational Therapist for Families of Children With Special Needs
PocketOT.com
If you are unsure about what occupational therapy (OT) is and how it can help your child, this accessible overview is for you. Answering all of the common questions about the issues an occupational therapist might address with a child with special needs, including core muscle strength, feeding, fine motor skills, sensory sensitivities, transitions and life-skills, this book also offers simple activities to practice at home that are inexpensive, fun and, most-importantly, OT-approved. This will be an illuminating and essential guide for parents and carers of children with physical and developmental disabilities or parents of children in rehabilitation from illness or injury. Professionals who want to learn more about the principles and practicalities of occupational therapy will also find it useful.